Want to leave a Review? Click here!
Christmas Cheer Campaign. Click here!
With every set of tires purchased receive:
• Free tire repairs
• Free tire rotations every 10,000kms
• Road hazard on Cooper Tires
*On these brands: Cooper, Hercules, Michelin, Nexen, Pirelli, Toyo,
Uniroyal, Yokohama, BF Goodrich,
Bridgestone, Continental, Falken, Firestone, General, Good Year

Free inspections and estimates
You know that something about your vehicle just isn't right. But you aren't a mechanic and don't have a clue about the issue. Welcome to the club. Most people just need their vehicle to work. Competition Muffler & Shocks offers free inspections and estimates. Call us and set up an appointment. We will determine what the issue is and the cost and time to resolve it. All with no obligation. Our crew is fully capable to repair your vehicle. Now you know what is wrong, you can make the decision on how to proceed.
In 1986, Bruce Baier opened Competition Muffler & Shocks in Saskatoon SK. He believed that a business that treated customers right and provided excellent value could survive. 30-years later the business is stronger than ever. In 2018 Bruce sold his remaining shares of the business to the current owners, Terry and Darin. Terry and Darin had both worked at Competition Muffler since the 1990s. They became part owners in 2014. Don't let the name steer you wrong. We offer total vehicle maintenance and repairs. We would like a chance to earn your business.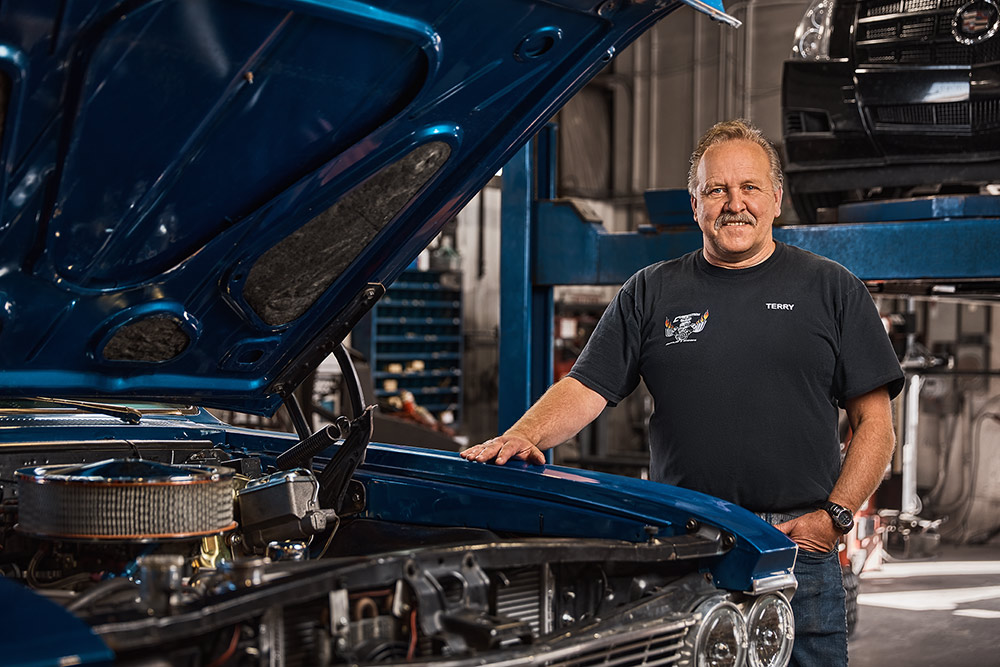 Terry began working at Competition Muffler & Shocks in 1993. He still works there and is one of the business owners. He is a family man with his wife Sandra and 3 children, Tyler, Kyle, and Kelsey. Terry loves working on vehicles. He is fortunate to be able to make his living doing what he loves. If you are a current customer, you will know how professional Terry is. If you aren't, Terry invites you to give Competition Muffler a try. You won't be disappointed.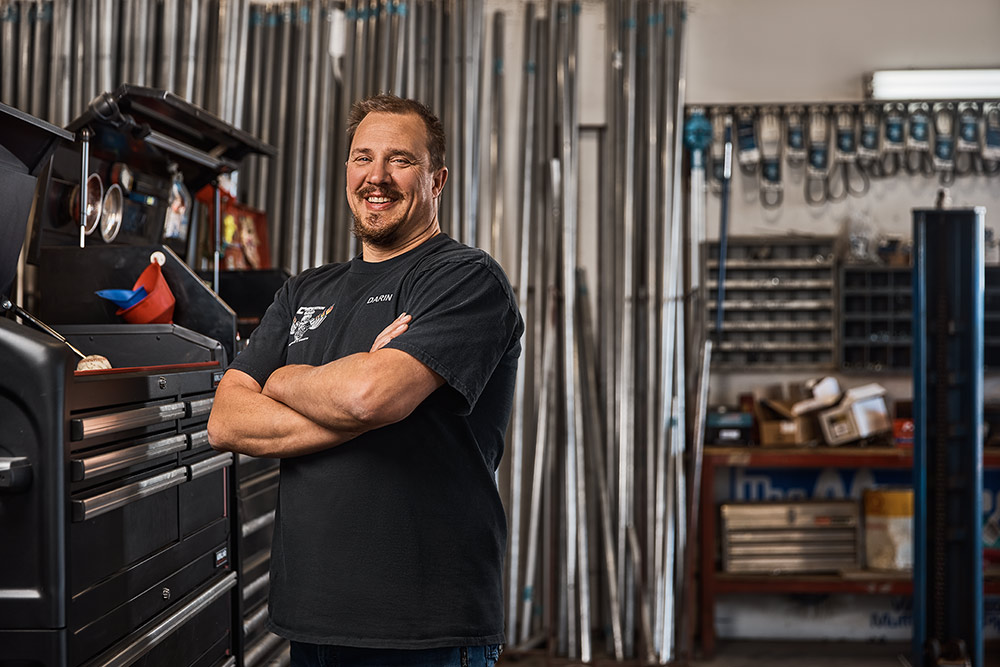 Darin began working at Competition Muffler & Shocks in 1999. He still works there and is one of the business owners. Darin has a wife, Bernadette, and 2 children, Megan, and Brayden. Darin's work history is quite different than Terry's. Darin was a chef at the Willows before he was bitten by the mechanic bug. He loves to learn new skills and was mentored by Bruce and Terry. Darin can still cook, but he'd rather be working on your vehicle at Competition Muffler.

Fleet Maintenance Service

Free Inspections & Estimates











Under the Vehicle
As a rule, few people get the see the underside of their vehicle. Few really want to. The staff at Competition Muffler & Shocks are exceptions to that rule. They love to get your vehicle up on a hoist. It allows them to have the safest access to exhaust, suspension, and oil changes. Dual, custom exhaust can look good from behind a vehicle. It can be awe-inspiring from underneath. Our mechanics become artists with a pipe bender and acetylene torch.

Under the Hood
We realize that your mufflers and shocks aren't really classified as "under the hood". We do want you to know that we offer all services for "under the hood" as well. Tune-ups, radiator repairs, batteries, and electronics. If you need maintenance or repairs to anything found under the hood? Bring your vehicle in for a free inspection and estimate. Our rates are reasonable, and our work is guaranteed.
Were you satisfied with our service? If so, below are 3 options for you to let us and other's know how we did.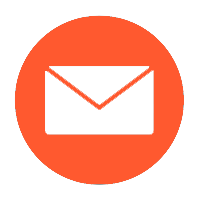 M. L.
"A shout out to Competition Muffler & Shocks.  They were very professional, friendly, and fast.  Contacted them on Monday for a quote and they had my vehicle in and repaired the next day.  They replaced my catalytic converter, now my van runs like a dream. Gave me a great quote and had some budget friendly options as well.  10/10 would recommend and definitely would return."
02/02/21

K. C.
"My mom's exhaust system needed some work done and we ended up paying a fraction of the price that the dealership could offer so that was great. It also was done very quickly so we were very pleased. The car sounds great now!"
08/27/20
Reviews and Testimonials from Google
COMPETITION MUFFLER DECALS
You have been asking for them – well, now we have them!
Stop by the shop to get yours!
Decals – $4.95+tax